So, the Stina project completes it's second trip to Siggraph, the biggest and most prestigious Computer Graphics and VFX conference in the world (first held in 1974) This year it was held in Vancouver in the impressive conference center located on the water front:
It was a great event and exciting for lots of different reasons (I may have had a few plays on the latest Occulus Rift). In attendance was myself, Alex and one of our students Oliver Herman, who was there as a Siggraph helper, but also undercover to help us promote the film.
Our first event was a presentation on how we've been using the film as a method of teaching our students. We were in-between two other presentations by other film projects being developed in the education sector. After some initial panic about absolutely nothing working with our powerpoint, we finally got it going and got ready for our biggest presentation to date:
The talk went very well by all accounts, with some great questions at the end, although the turnout was rather smaller than we'd hoped for (Around 35ish, we were competing with some much higher profile presentations that day unfortunately) We were very excited to see that Jorge had come to see us however, a head of one of our main sponsors SOLID ANGLE. It was also very interesting to see what other universities had been up to and we got some useful insights into improvements we could make in scheduling our student milestones.
Before our next presentation we had some time to check out the conference exhibition hall where Stina was making a debut on few of our sponsor's stands: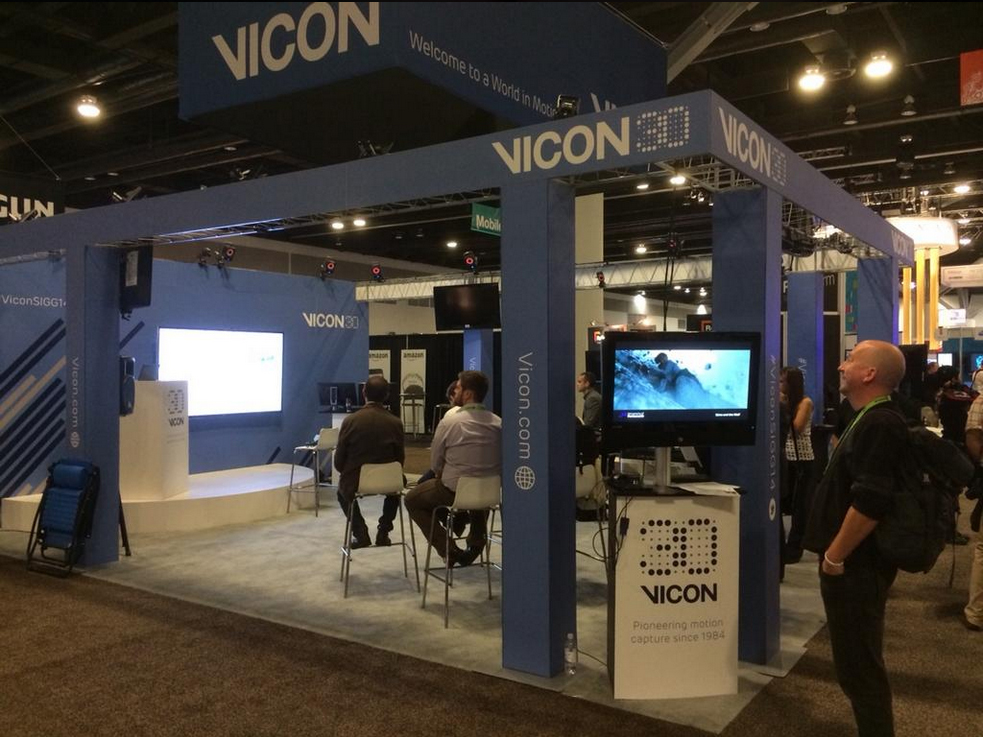 At the VICON stand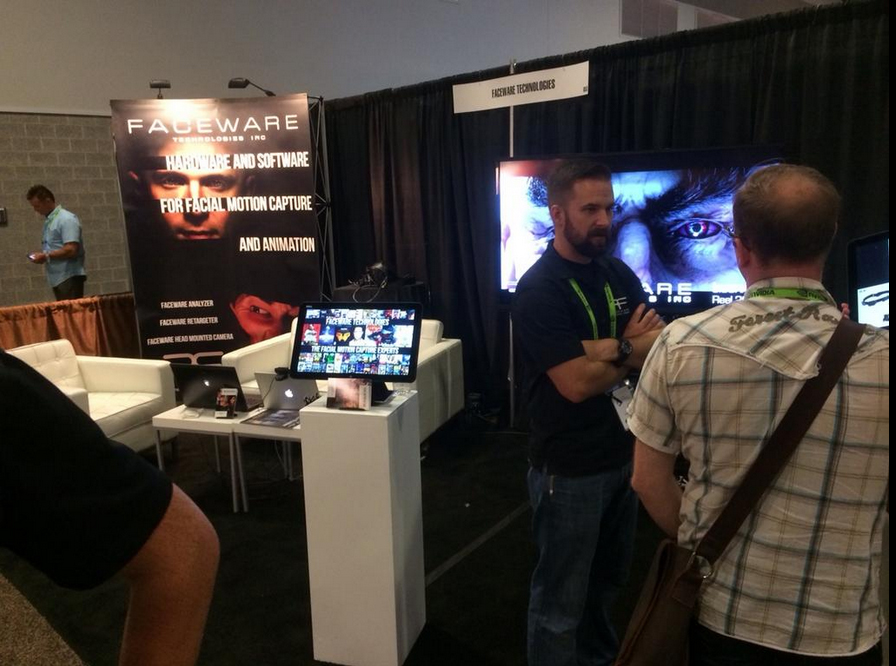 At the FACEWARE stand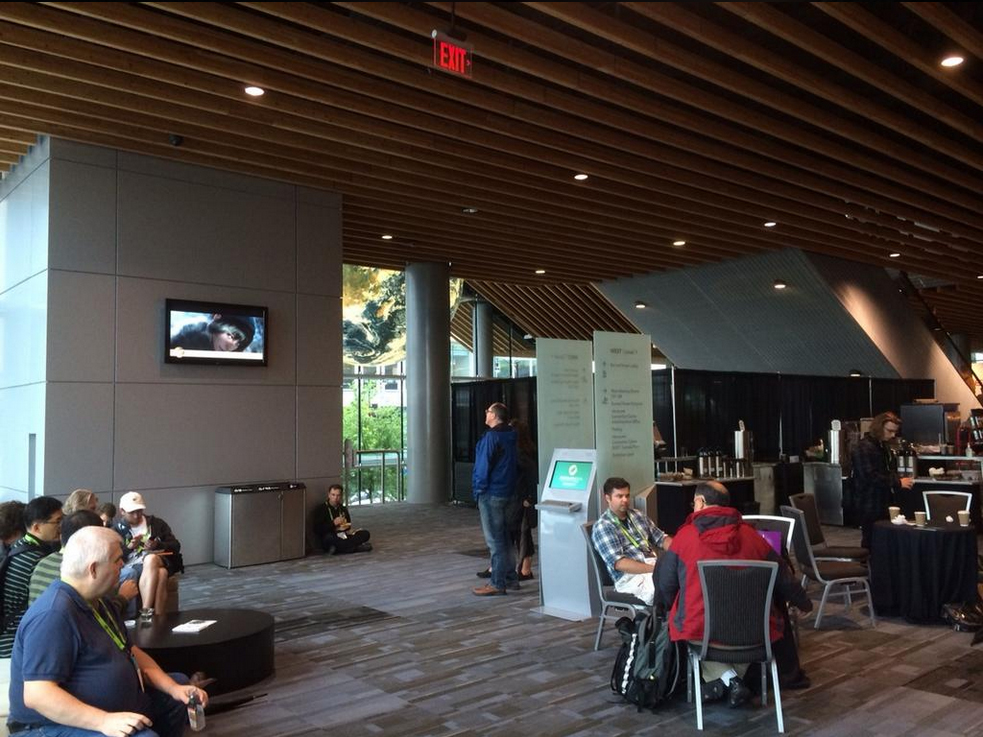 And playing out in the dallies reel over lunch.
We also had a chance to talk to the guys at FABRIC ENGINE who make a piece of software that may just save our bacon when we start transferring our entire film pipeline over to Maya (which, for those who don't know we have had to do as the software we have made our film on up until now: Softimage, has now been canceled by the people that made it: Autodesk) This software will allow us to use the skills and methods we have developed in ICE, (a system of visual programming integrated into Softimage)  within Maya, as the new release of FABRIC ENGINE will effectively allow ICE within Maya. This really did make our day, as up until that point the assumption was that all the skills we and the students had developed using ICE were now effectively redundant. We are also planning to open up this software to all the students outside the Stina project, as FABRIC ENGINE is now being adopted by commercial studios and will soon become an invaluable programming tool in a graduate's arsenal of skills.
For our final  presentation we were lucky enough to be sandwiched in-between some pretty high profile and exciting speakers, so our audience was guaranteed to be a lot larger:
Alex and I had 90 seconds to deliver our double act as the trailer played out on the screen. Luckily it was a lot more packed as we'd hoped, and we got a fantastic reception. It seems that the trailer is provoking a lot of very positive feedback from people who get see a lot of professional feature level work, which is very encouraging indeed. Also the trailer is now playing over on CGBROS, where we've had over 1000 likes so far (plus a lot of heated debate about whether the trailer is too obscure or not.. which i'm personally very happy about!)

The rest of the conference led to some great new discoveries for software solutions for the film: SPEEDTREE Looked ideal to help us solve our extensive foliage problem, allowing us to make dynamic forests and plants; and QUALOTH looked like it might be a very useful augmentation to our Marvelous Designer cloth pipeline, particularly as we now have to switch to Maya. (where it has an integrated plugin already developed.)
After a fairly modest amount of after show partying (thanks to VICON and FACEWARE here) and managing to catch up with our friends Lynette and George from 3d TOTAL , the conference came to an end. We were flattered by the praise and attention received by the trailer, which is testament to the hard work put in by all the students (now all listed under "The Team" tab above)  Hopefully this, along with our recent CGBROS publicity has raised our profile to the level that will allow us to do some serious fundraising to take the film to it's next big milestone: completing the previz.  Watch this space..
Paul