Paul here with a lot to report since my last post.  Our research  trip to the Carpathians was a great success and proved once and for all that lecturers have a much higher level of general fitness than the youth of today,  with myself and Jackie bravely leading the assembled student throng up a mountain with not so much as a nibble on a bar of Kendal Mint Cake. (Although we were forced to eat snow after the gallons of fresh mountain spring water promised by our Turkish/Romanian host failed to materialise. I'd recommend Kendal Mint Cake for future ventures) The landscape was stunning and when not resting, the students collected a great array of visual research material which is already proving invaluable in concept art and environmental design (see below) and should give us an excellent texture library.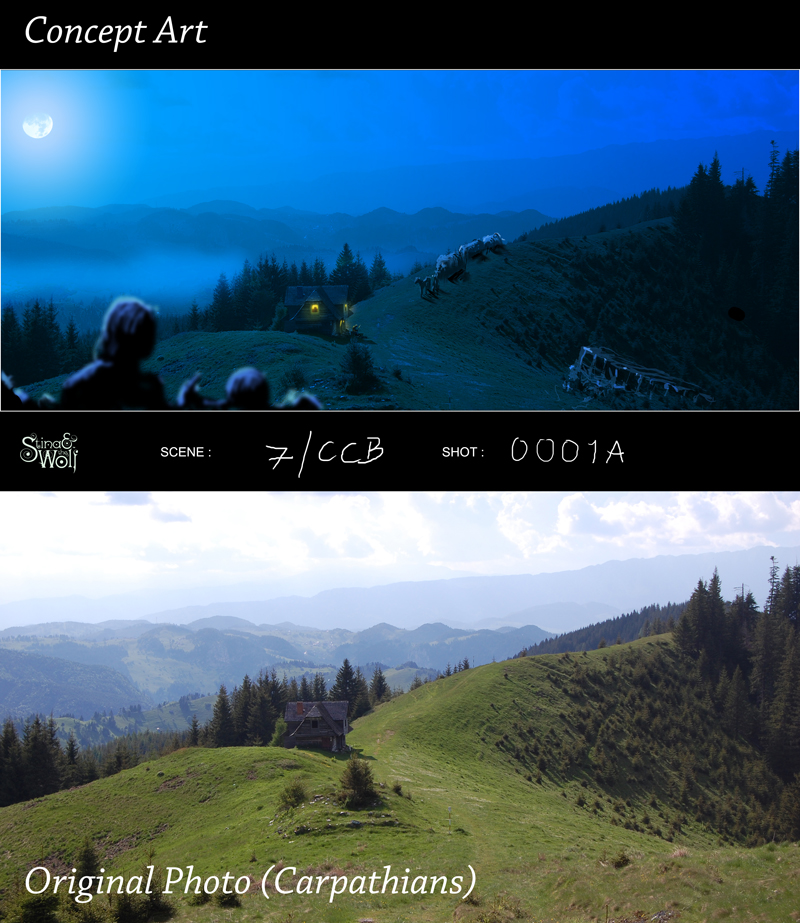 Our hosts were marvellous and kept us stocked up on local delicacies, hookah cherry pipe tobacco and almost infinite amount of sheep's cheese, also patiently accommodating our daily requirement for "English Tea". Their dancing also far surpassed our puny English efforts.
Meanwhile, back in old Blighty, the cast were having their faces submerged in blue jelly in aid of capturing their likenesses for the facial capture process. Ros, Teresa and Graeme worked like Troopers keeping the casting production line rolling all day and the actors were by all accounts incredibly brave, and remarkably relaxed in the face of total head marination (not sure i'd of been so calm)
Other exciting news: We have been lent an additional 8 top of the range motion capture cameras by VICON for the whole duration of the shoot (By top of the range i mean each one is worth twice what I earn in a year; students please don't leave your energy drinks on these cameras) giving us a total of 20 cameras to cover our new larger mocap stage. According to Alex, our motion capture supervisor, they are pretty much the best motion capture cameras available to humanity, so we should be able to capture every nuance of the on set performances.
Our wooden set pieces are half way finished, with Roy doing a splendid (and very speedy) job of helping us turn our flat mocap stage into a mutable rugged mountain terrain. We now have a team of around 15 crew recruited to work on set doing the facial capture, prop and set construction, audio capture, motion capture and logistical support (including biscuits). We also have a lot of new team members in FOAMDigital and will be listing a new full crew and cast list when we build our new slimed down site in the next few months.(after shooting)
The script is now locked for the shoot, having had a quite a few tweaks and revisions (21 to be exact) resulting from a varied and reassuringly positive range of feedback (Thanks to all those who took the trouble to read and feedback) Particular thanks go to John Brice (http://www.solent.ac.uk/staff-profiles/John-Brice.aspx) who gave up many hours of his time advising, emailing and giving inspiration during the revision process.
We now have a full cast with the final addition of Martin as the Pipe Catcher; An actor of stage and screen with a wealth of experience in TV and theatre and the owner of a rather splendid voice. Rehearsals start on 25th July and shooting starts the following week ending 25th August. We are spending the remaining 4 weeks frantically making the final preparations to our on set pipeline and the mocap stage. It's going to be an incredibly busy time but it's all very very exciting, as we are finally putting everyone's hard work into action and making the movie we've been planning for the last 2 years.
Signing off for now,
Paul